Sale Horses
From time to time we will have horses available for purchase. Occasionally we are transitioning proven horses out to make room for younger, up and coming geldings or we may have prospects available. Please be sure to contact us if you are interested in any of the horses you see here or are looking for something in particular.
TEDDY - SOld
Like quite a few of the geldings we have brought in over the years, Teddy was bred and raised by Duane Gilbert. He is actually closely related to our big, soggy gelding Easy that everyone loves, although by looking at him you'd never know it. Teddy is a bit smaller in comparison to most of our geldings, but he sure makes up for it in toughness. This guy has grit for days and all kinds of opinions on how to get work done right. Teddy has done every job there is on the ranch, has been team roped on a lot, and is just making his way into picking up bucking horses. He's the pin-your-ears-back and go at them type, and we really like that. Plus, he is a unique smutty buckskin color with beautiful amber eyes, so he sure isn't hard to look at.
WESTERN - SOld
This is a big, pretty, proven ranch gelding that is in the prime of his life. There aren't many for sale at this age that have the kind of lifelong ranch experience this one does, are good minded and carry it all in a good-looking red dun wrapper. Western has done every ranch chore you can imagine, and most of it in some of the roughest country Wyoming has to offer. If you have a job, no matter how big or how small, this is the go-to horse for you. He is fun to sort both cattle and horses on, pulls even the toughest bulls with strength and confidence, has the cow and run to stick with and rope cattle in the open country, has drug countless calves at branding, hobbles out in the open country, and is comfortable to ride on even the longest days.
Dewey - SOld
This is a young, experienced gelding in the prime of his life with a proven working pedigree. We have owned Dewey since his two-year-old year, so we know just about everything there is to know about him. He has been hauled to town and used at rodeos to sort and pen stock, clear the arena and pickup some broncs. He also spent this past summer in Idaho working for a living logging countless miles across some of the roughest country there is doctoring cattle, roping horses, starting colts, roping and loading bulls, and hauling hundreds of heavy spring calves to the fire. He has seen 18 hour days and has never taken a lame step or turned down a job.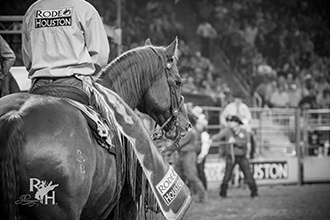 BO - SOLD
Bo has been a part of our family since he was six years old. He is a big, pretty horse with a lot of size and substance and some fast gears to go with it. He is well made, and is about as fancy as you can find in a sorrel wrapper. Everywhere we go people ask us about this big, shapey guy! He is a grandson of Peppy San Badger and great grandson of Doc O' Lena, and it shows in his natural athletic ability and agility. And, yes, he really is 15.3 and 1350 lbs! Size is his middle name, but it also comes with a ton of athleticism.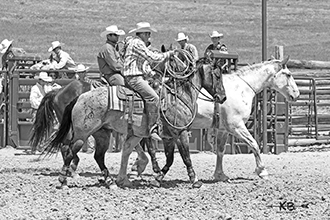 RASCAL - SOLD
I think it's safe to say that we have a special one here. Any horse that has the pleasure to go through the sale ring at the WYO Quarter Horse sale in Thermopolis, Wyoming is a good one. Bill, Carole and Reid spend a lot of time and effort finding the best kind of horses for their sale clientele, and Rascal is a perfect example of that. He carries the Smith's Circle 7 brand, and we are sure proud to show it off. As far as I'm concerned, the stars have aligned just right to enable us to own this fun, well-trained gelding. Just look at him - stout and FANCY from head to toe!